Hoàng Hải Triều

Th.s Từ Hậu Kế Nhã

Trần Thanh Luân

Trần Thiện Nhân

Nguyễn Hoàng Long

Nguyễn Hoàng Duy

Bùi Hữu Châu

Dương Ngọc Phương

Hà Hớn Nguyên

Lê Bữu Điền

Lê Thị Ngọc Hân

Lê Trung Hiển

Lê Văn Kiều

Mai Thị Tuyết Vi

Nguyễn Đăng Sang

Nguyễn Diệu Anh Thư

Nguyễn Lâm Đình Hiếu

Nguyễn Minh

Nguyễn Nhựt Tân

Nguyễn Thị Kim Đào

Liên Nguyễn Văn

Phạm Ngọc Phương

Ngân Huỳnh

Nguyễn Thu Thủy

Minh Quang Trần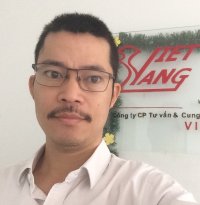 Hoàng Hải Triều
General Director
Introduce
[English] I have 3 targets.
1. To develop IT products/services that satisfy customers.
2. To teach all employees about IT (development, design, IT project management) based on my over 10-year experience, to DEVELOP more and more excellent employees who are superior to me.
3. To bring VietVang out of so called Vietnam IT offshore development company and transform it into a world class excellent IT company.
[Vietnamese] Tôi có 3 mục đích.
1. Tạo ra các sản phẩm IT làm thỏa mãn khách hàng.
2. Truyền đạt các kinh nghiệm về Phát triển, Thiết kế, Quản lý dự án IT cho các nhân viên dựa vào hơn 10 năm kinh nghiệm của bản thân để từ đó tạo ra thật nhiều các nhân viên xuất sắc, ưu tú hơn bản thân thôi.
3. Đưa công ty Việt Vang ra khỏi khái niệm Công ty gia công phần mềm và biến Việt Vang thành một công ty IT ưu tú tầm cỡ thế giới.
Capacity
+ PM: 5 year(s)
+ SE: 4 year(s)
+ PHP: 1 year(s)
+ Java: 2 year(s)
+ Network: 3 year(s)
+ DB: 2 year(s)
+ Languages: English: Pro, Japanese: Pro, Vietnamese: Native
+ Other: Table tennis: Semi pro, Golf: 125 Guitar, Piano: Amateur
XEM TOÀN BỘ NHÂN VIÊN